Published something interesting?
If you have published a book on a subject of potential interest to ACIS members in the course of the past year, we invite you to take the opportunity to use our web pages to publicise it. Please send details to sssrrelvas@yahoo.com.br  (re: ACIS publications)
……………………………………………………………………………………………………………………………………………………………………………………………………………………………..
Books recently published by ACIS members.
Eds. Susana Rocha Relvas, Rikki Morgan-Tamosunas, María Gómez Bedoya
This publication presents the Proceedings of the 38th Annual Conference of ACIS, held from 7th to 9th September 2016 at the Universidade Católica Portuguesa, in Porto in collaboration with the University of East Anglia and University of Westminster.
Book description: 
Under the theme "Iberian Interconnections", this edition gathers papers and panels which explore a wide range of Iberian themes and also expand the scope of the intra-Iberian geographical boundaries to other latitudes, focusing on Luso-Spanish interconnections and the numerous bridges to the wider Lusophone and Hispanic worlds in the linguistic, literary, cultural, artistic, social-historical, economic and political domains, including rich and multifaceted studies on multiculturalism, memory, representation and identity, tourism and propaganda, media, migration, dictatorial and democratic regimes, gender in cinema and the mining industry.
…………………………………………………………………………………………………………………………………………………………..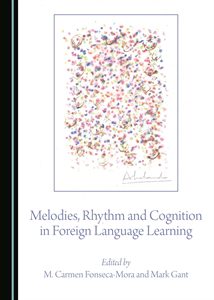 Melodies, Rhythm and Cognition in Foreign Language Learning
Editor(s):
M. Carmen Fonseca-Mora, Mark Gant
Contributors:
Fergal Kavanagh, Hamish Binns, Laurie Thain, Mark Gant, Rosalía Rodríguez Vázquez, Ziwei Zhou, Kathleen Wermke, Werner Mende, José Manuel Foncubierta, Cristina Aguilera Gómez, Pascuala Morote Magán, Carmen Toscano-Fuentes, M. Luisa García Bermejo, Teresa Fleta, Alejandra Pacheco-Costa, Eva Adam.
Book Description
Melodies, Rhythm and Cognition in Foreign Language Learning is a collection of essays reflecting on the relationship between language and music, two unique, innate human capacities. This book provides a clear explanation of the centrality of melodies and rhythm to foreign language learning acquisition. The interplay between language music brings to applied linguists inquiries into the nature and function of speech melodies, the role of prosody and the descriptions of rhythmical patterns in verbal behaviour. Musical students seem to be better equipped for language learning, although melodies and rhythm can benefit all types of students at any age. In fact, in this book melodies and rhythm are considered to be a springboard for the enhancement of the learning of foreign languages.
Contesting Spain? The Dynamics of Nationalist Movements in Catalonia and the Basque Country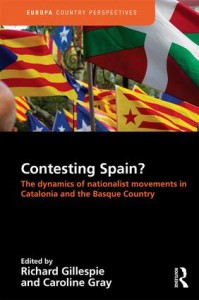 Contesting Spain? The Dynamics of Nationalist Movements in Catalonia and the Basque Country offers an exploration of the dynamics behind contemporary shifts in the orientation of nationalist parties and movements with reference to Catalonia and the Basque country in Spain. The chapters were originally papers presented at a workshop held at the Barcelona Centre for International Affairs (CIDOB) in September 2014 as part of a research project on 'The Dynamics of Nationalist Evolution in Contemporary Spain', whose purpose was to gain a better understanding of why regionally-based nationalist movements have experienced shifting relationships with the Spanish state over time, in some periods appearing content with accommodation between central and regional government and at other times pushing to go beyond autonomist demands to seek sovereignty or even attain full independence.
:…………………………………………………………………………………………………………………………………………………………………………………………………………………………………………………………………………………………..
Scotland's Referendum and the Media. National and International Perspectives.
Edited by Neil Blain, David Hutchison and Gerry Hassan.
ISBN: 9780748965989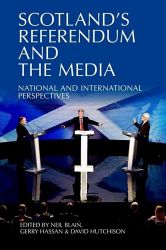 After the Referendum on whether Scotland should become an independent country in September 2014—and following a momentous mobilisation of voters by both the Yes and No campaigns—Scotland's political environment has been fundamentally energised. But how was the Referendum campaign reported and structured in the media in Scotland, the wider United Kingdom, and in other parts of the world, and was it a matter of 'construction' rather than 'representation'? In this book scholars, commentators and journalists from Britain, Europe and beyond examine how the media across the world presented the debate itself and the shifting nature of Scottish—and British—identity which that debate revealed. Several of the contributors also explore how the emphases and constructions which were put on the debate in their particular countries illuminated these countries' own responses to nationalism and separatism. The consequences of the Referendum's No result are traced in the media through until the May general election of 2015
……………………………………………………………………………………………………………………………………………………………..
By LAURA POUSA
ISBN (edición impresa): 978-84-15544-95-1

……………………………………………………………………………………………………………………………………………………………..

By José Miguel Sardica
……………………………………………………………………………………………………………………………………………………………………………………………………………………………………………………………………………..
Discursos y narrativas en el contexto español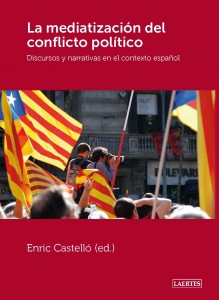 Enric Castelló (ed)
Este libro presenta una serie de artículos sobre la cobertura de conflictos políticos y territoriales en España. Las investigaciones aplican el análisis de marcos interpretativos, discursos y narrativas a diversas muestras de contenido, sobretodo de prensa. Se analiza la cobertura mediática de las declaraciones de políticos sobre el modelo de Estado; la sentencia del Tribunal Constitucional sobre elEstatut de Cataluña y la manifestación del 10J; la información sobre (i)legalización de partidosabertzales; las tentativas de reforma del Estatuto gallego, la pugna por el traslado de "los papeles de Salamanca" y los bienes sacros del Museu de Lleida, la prohibición de las corridas de toros en Cataluña y las controversias por la actividad de las selecciones autonómicas. El trabajo colectivo va precedido de un marco teórico sobre la mediatización del conflicto político y el estudio del discurso de los medios.
El capítulo 9 de este libro, Deporte y política en el bucle del eterno retorno, ha sido escrito por Hugh O'Donnell y Fernando León Solís.
……………………………………………………………………………………………………………………………………………………………………………………………………………………………..
Globalization and Language in the Spanish Speaking World
Macro and Micro Perspectives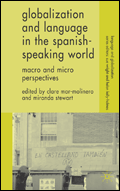 Clare Mar-Molinero and Miranda Stewart
This volume considers the spread of Spanish today and particularly its role in the processes of globalization. Spanish is frequently dominant in contact with other languages. But how contested is its hegemony and how far does it threaten other languages? How are these other minoritized languages faring in a world of few strong, global languages?
ISBN 0230000185, £50.00
Palgrave, 2006
……………………………………………………………………………………………………………………………………………………………………………………………………………………………..
Negotiating Spain and Catalonia
Competing Narratives of National Identity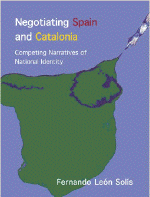 By Fernando León Solís
What is Spanish identity? The stereotype conjures up images of 'temperament', 'passion' and 'difference' from the rest of Europe. But, within Spain, is there a single image all Spaniards identify with?
The two case studies included in this book (dealing with the Football World Cups of 1994 and 2002, and the general elections of 1996 and 2000) examine competing discourses of Spain, Catalonia and their national identities, as constructed in the Spanish press.
ISBN 1-84150-077-1, £19.95
Intellect, 2003
Publisher's flyer (pdf format)