The Association for Contemporary Iberian Studies (ACIS) brings together academics from a wide range of disciplines who share an interest in contemporary developments in Spain and Portugal. It welcomes new members working in any relevant field.
………………………………………………………………………………………………………………………………………………………………….
Important Notices for All ACIS Members:
2016 Conference, Executive Committee Opportunities & Proposed Amendments to ACIS Constitution and Standing Orders
Dear Member
2016 Conference 7-11 September in Oporto,  Portugal
Just a reminder that the final date to register for the Conference is 29 July – details on our website: http://www.iberianstudies.net/wp/ We hope to see you there!
Executive Committee and Editorial Committee Opportunities
We would like to encourage all members to consider getting more closely involved in the running of the Association. There are a number of exciting opportunities to take on the following roles on the ACIS Executive Committee and Editorial Committee for our journal,International Journal of Iberian Studies (IJIS). If you would like to find out more or express an interest in taking one of these roles, please contact Rikki (ACIS Secretary).
Roles:
·      Membership Secretary – from September 2016
·      Postgraduate Student Representative – from September 2016
This is a great opportunity for PG student members!! Please encourage your PG students to think about this!
·      Editors of the International Journal of Iberian Studies (2)*
– proposed term of office to begin in September 2017 (preceded by one year as part of the Editorial Committee on a co-opted basis)
Full details of these roles are given in the attached notice. Formal nominations for these roles must be submitted to the Secretary by 5pm on Monday 5 September 2016. Elections will be held at the Annual General Meeting in September this year. 
We are grateful to Susana Rocha Relvas who kindly agreed to undertake the role of Electronic Communications Officer and to Teresa Pinheiro and Esther Gimeno Ugalde who have kindly undertaken the IJIS Reviews Editor roles this year. The AGM will be invited to formally endorse these roles at the AGM in September 2016 (see attached notice).
Proposed Amendments to ACIS Constitution and Standing Orders
At the 2015 Annual General Meeting of the Association, it was agreed that the Executive should review and recommend amendments to the Association's Constitution and Standing Orders in order to update the section on membership fees to reflect revisions to membership fees approved by the AGM and to provide clear procedures for the Association to exercise flexibility in the timing and terms of office where appropriate. The proposed changes are indicated (in red) on the attached Draft Amendments to the ACIS Constitution and Standing Orders (the current version of this document can be seen on the ACIS website at ). The AGM will be invited to discuss and, if appropriate, approve these amendments in September 2016.
see please:
Rikki Morgan-Tamosunas
ACIS Secretary (on behalf of ACIS Executive Committee) 
Email: morganr@westminster.ac.uk
…………………………………………………………………………………………………………………………………………………………
The Association holds an annual three-day conference which is noted for the variety and scope of the papers presented: they normally cover such themes as politics, economics, geography, regional identities, international relations, feminism, media analysis, television, cinema, linguistics, teaching methodologies and so on.
We are very pleased to announce that the 38th ACIS Annual Conference will take place at the Universidade Católica do Porto, Portugal, from 7 to 9 September 2016.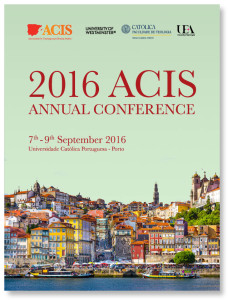 Oporto city has been described as "antique, highly noble, always loyal and unconquered" due to the courage, strength of character and determination of its people. Tested throughout history (the Discoveries and the nineteenth-century civil war) it is nowadays a dynamic, innovative and open city, where knowledge and creativity abound. From science to culture, arts and sports, from the warmth of its people to its architecture and natural resources, Oporto has become a truly world-class city. Cultural and leisure facilities such as Casa da Música, the Coliseum, the City Park, the Serralves Foundation – with its Museum of Contemporary Art and park – and of course the iconic Avenida dos Aliados are just some examples of the city's heritage.
………………………………………………………………………………………………………………………………………………………………………………………………………………………………………………………………………………………….
Located on the west side of the city, in Foz do Douro, the Universidade Católica do Porto was founded in 1978 and has, at the moment, eight academic units and eight research centres, providing a stimulating and multicultural academic environment for students and researchers throughout Portugal and around the world.
…………………………………………………………………………………………………………………………………………………………………….
BURSARY AWARDEES 2016
Paco Russante (University of Cambridge)
Eliana Brites Rosa (ICS-Universidade de Lisboa)
Manuel López Forjas (Universidad Autonoma de Madrid)
BURSARY AWARDEES 2015
ACIS BURSARIES
Julio Andrés Gracia Lana (Universidad de Zaragoza)
Jimeno Revilla (Consejo Superior de Investigaciones Científicas)
Débora Madrid Brito (Universidad Autónoma de Madrid)
Caroline Gray (University of Liverpool)
UAM BURSARIES 
Ángel Antonio Chirinos Amaro (Universidad Complutense de Madrid)
Adrián Collado Icardo (University of California at Los Angeles)
Manuel López Forjas (Universidad Autónoma de Madrid)
Michelle Roche Rodriguez (Universidad Autonoma de Madrid)
………………………………………………………………………………………………………………………………………………………………….
Journal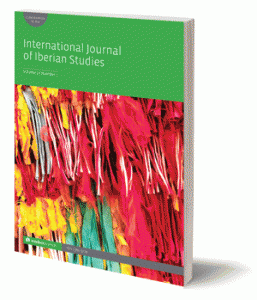 ACIS publishes a journal, the International Journal of Iberian Studies.
The journal – information on submissions
For more information (subscriptions, contents of previous numbers, etc.): IJIS (Intellect Books)
Call for Expressions of Interest for IJIS  Open Forum Editor
CALL FOR EXPRESSION OF INTEREST
………………………………………………………………………………………………………………………………………………………………………………………………………………………………………………………………………………………………